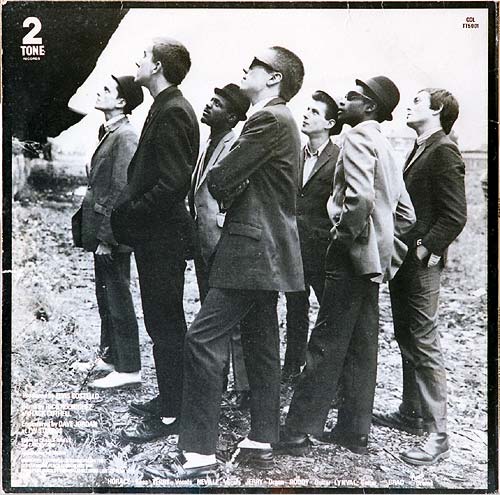 I was at J&R Music World in Lower Manhattan yesterday--I haven't had the chance to stop by there in months--and was surprised by how much their new vinyl section has expanded (if you have the time, they also have dozens of crates with used and cut-out LPs). The new LP bins are so tightly packed that you can barely flip through the records. While rummaging through the stacks, I discovered that Capitol/EMI has just reissued the debut Specials record on 180 gram vinyl (for $19.99...a little steep, if you ask me--most LPs there cost $14.99-$16.99). Nitpickers take note, the sleeve features the UK artwork, but the US track listing (i.e.: "Gangsters" is included here). I didn't buy it, since I already have a few copies of this LP (US and UK versions from way back), but then again, if I spot it for less somewhere else...
J&R also has a great selection of reggae and ska CDs upstairs--I spotted the new Laurel Aitken reissues of
Says Fire
and
Ska with Laurel
, both of which I am going to review soon, and picked up a copy of RiceRokit's
Hang Loose
for $9.99 as a gift for my son's piano teacher, since he likes Sublime. I also saw Prince Buster's
King of Ska
and
Sings His Hit Song Ten Commandments
and they carry all of the Pressure Sounds, Blood and Fire, and Megalith releases. Their reggae LP selection is minimal, though. You'll do much, much better at
Jammyland
, where ever it ends up (I just found out that their 3rd Street shop closed last year--thanks, Jon--their website states that they will reopen somewhere else soon).
BTW, J&R is the last large record store left in Manhattan (the Union Square Virgin Records just closed last week) and it is independently owned, to boot!