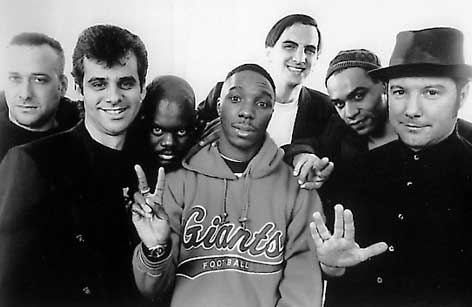 Our good friends at
Megalith Records
have two new releases of note rolling out of their pipeline soon from The Toasters and Freddy Loco and The Gordo's Ska Band.
The Toasters'
excellent 1996 album
Hard Band for Dead
(which followed on the heels of the brilliant
Dub 56
) is being re-issued as
2Tone Army
, with new artwork and six previously unreleased bonus tracks:
1. 2Tone Army (Hingley)
2. Talk Is Cheap (Hingley)
3. Friends (Hingley/Ugbomah/Toasters)
4. Secret Agent Man (Barri Sloan)
5. Chuck Berry (Hingley)
6. Mouse (Reiter)
7. Hard Man Fe Dead (C. Campbell)
8. Don't Come Running [Extra Intro] (Faulkner)
9. Properly (McCain/Ugbomah)
10. Maxwell Smart (Irving Szathmary)
11. I Wasn't Going To Call You Anyway (Hingley)
12. Speak Your Mind (Hingley/Rice)
13. Skaternity (Reiter/McCain)
14. Dave Goes Crazy (Rimsky-Korsakov)
[Bonus Tracks]
15. 2Tone Army [Special Forces Version] (Hingley)
16. Skar-Toon [Unreleased] (Brown)
17. Retroactive [Unreleased] (Reiter)
18. Speak Your Mind [Instrumental] (Hingley/Rice)
19. Skaternity [Demo] (Reiter)
20. Moon Ska Stomp [Unreleased] (Hingley/Toasters)
21. Speedy Gonzales [Unreleased] (Hingley/Toasters)
22. 2Tone Army [Blues Reprise] (Hingley)
The album features guest spots by The Godfather of Ska himself, Laurel Aitken (on "Speak Your Mind"), The Skatalites' terrific saxophonist Lester Sterling (on "Mouse" and the cover of Prince Buster's "Hard Man Fe Dead"), The Ventures' guitarist Jerry McGee (on "Friends"), and King Django (chatting on "Properly").
Some Duff Guide to Ska Notes to

Hard Band for Dead

:
In an attempt to capitalize on the intense music press/industry buzz in the mid-90s (
Billboard
and others declaring ska "the next big thing," and every major label wanting a ska-like band in their pocket), Moon Records produced two of its first music videos, "2-Tone Army" and "I Wasn't Going to Call You Anyway," to help promote this album (which also received a good amount of airplay from college radio, according to the CMJ charts at the time). In true DIY fashion, I shot
"2-Tone Army"
on Super 8 film at a Toasters show (with Lester Sterling in the line-up!) at the Fashion Institute of Technology in Chelsea; outside the first Moon shop on 2nd Street in Alphabet City; and in my UES living room. The footage was digitally edited with the assistance of the late artist
Dieter Froese
at Dekart Video in Chinatown (they typically did most of their work with PBS, museums, and video and performance artists, but occasionally edited videos for major label bands like REM). The whole production cost about $2,500--and it ended up premiering on MTV's "120 Minutes" and going into fairly regular rotation on MTV and M2 (hell, they even created a special "Skaturday," when they featured ska viddys for a couple of hours).
Contrary to all of the label's/band's expectations, MTV gave the "2-Tone Army" video an extraordinary amount of support because: a) they genuinely liked The Toasters' music and knew how long they had been plugging away on the scene; 2) they didn't want to miss out on ska craze (the hype really was brutally intense, even if the major labels really didn't know ska from Adam or how to market it)--and there weren't that many new ska videos being produced; and 3) they got a kick out of the fact that we had the nerve to submit this somewhat crude, low-budget video, while many other indie acts were lavishing tens of thousands of dollars on theirs trying to make the big time.
Originally, I had planned to shoot a music video for "Chuck Berry" (the single on the record player in the video is the limited edition "Chuck Berry" 7", which was released well before the rest of the album was finished), but switched it to "2-Tone Army" after hearing an advance copy of the song. Since these were untested waters, The Toasters were minimally involved in the making of this video (I came up with what little concept there was and basically showed up to film them at both the FIT show and their promo photo shoot on 2nd Street before they went off on a tour--one of these pictures ended up on the back cover of the CD--we never scheduled anything specifically for the video) and Bucket didn't see any footage until the editing was completed (either he had complete faith in me or was entertaining my flight of fancy). I spoke with him on the phone after he first saw the video and could tell that he was extremely underwhelmed--but as things progressed, he seemed pretty pleased with all the mileage the band/label got out of it.
Like "2-Tone Army,"
"I Wasn't Going to Call You Anyway"
(which was directed by Drew Sentivan, who also made several higher-end videos for Moon in collaboration with
Crazy Duck Productions
, all of them great, including The Toasters'
"Don't Let the Bastards Grind You Down"
and
"I'm Running Right Through the World,"
as well as The Scofflaws'
"Nude Beach,"
Isaac Green and the Skalars'
"High School,"
and the Skoidats'
"Last Night"
) went into regular rotation on MTV and M2 (remember that station--completely devoted to actually playing music videos, many of them from alternative/indie bands?). For better or worse, Moon also permitted MTV to use excerpts of several songs off of
Hard Band for Dead
for shows like
Singled Out
and
The Real World
, in the hopes of expanding the band's audience and stimulating CD sales.
After the recording sessions for
Hard Band
, the souring relationship between Coolie Ranx and the rest of the band hit an all time low--and he left/was booted from The Toasters soon after. (One memorable, cringe-worthy event from this period took place at The Toasters' Central Park Summerstage gig, a big deal back then since they were one of the first ska acts ever featured in this concert series, as when it came time for the band to hit the stage, Coolie was AWOL--Bucket and Sledge had to take over Coolie's vocal duties; he finally showed up several songs into the set, dramatically leaping onto the stage from the audience.) As a result, just before the
Hard Band for Dead
masters were sent to the printing plant, most of Coolie's tracks were dropped from the album (I'll always remember Toasters bassist Matt Malles telling me how bummed he was that one of the songs he co-wrote with Coolie was left off the record--he thought it was the best track of the bunch.) Interestingly enough, the "2-Tone Army" video inadvertently captured the transition between Coolie Ranx (who is in the photo shoot segments) and Jack Ruby, Jr. (who was on stage as a member of the band at the FIT show).
One last tidbit: a version of "2-Tone Army" (recorded months before the
Hard Band
sessions by the Moon Ska Stompers, which was comprised of members of The Toasters and NY Ska Jazz Ensemble, as well as Victor Rice and King Django) became the theme music for the very cool animated/stop action Nickelodeon show
"Kablam!"
.
+ + + +
Also on deck for release in mid-August is the sophomore release from Belgium's vintage ska/jazz practitioners
Freddy Loco and The Gordo's Ska Band
: "Satelites." The album features guest appearances by The Skatalites' Cedric Brooks, NY Ska Jazz Ensemble's Rocksteady Freddie Rieter, and Victor Rice, who also mixed the tracks. The band's debut album, TABA, was digitally released by Megalith in 2007 through
CD Baby
and iTunes.