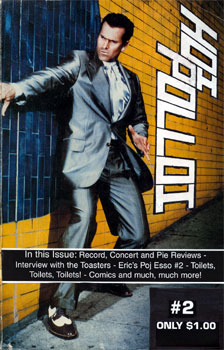 I've been meaning to write this up for some time--if you don't already do so, you must regularly check
Hoi Polloi Skazine's news section
, which is really a fascinating ska almanac that contains all sorts of unexpected factoids that are certain to enhance your life (well, at least they will expand your knowledge of ska).
According to
Hoi Polloi
, significant ska happenings in the month of July included the passing of the wonderful Laurel Aitken (7/17/06); a celebration of the 40th anniversary of the Apollo 11 mission to the moon (7/20/69) with
HP's top 40 lunar-related ska and skinhead reggae songs
(plus a few relevant punk and new wave cuts thrown in the mix); Ranking Roger's appearance on the cover of
Melody Maker
to promote the release of
Special Beat Service
(7/25/82); the Monday Night Ska Extravaganza at Gaz's Rockin' Blues at the Astoria in London with a mind-blowing bill that featured Desmond Dekker, Laurel Aitken, The Trojans, and Maroon Town (7/27/87); and the release of The Specials' debut single "Gangsters," which was at #7 on the UK charts 30 years ago (7/28/79). This is essential reading!
HP editor John Vaccaro has an extraordinary archive of ska-related press clippings and ephemera from the 70s onward (I have a huge backlog of articles and photos he has been kind enough to scan and send me, which I'm going to use for future Duff Guide to Ska articles). Plus, he shares my obesssion with
Unicorn Records
, the UK-based label that issued an inordinate amount of quality ska in the late 80s and early 90s (Laurel Aitken, Derrick Morgan, The Toasters, Potato 5, The Deltones, Busters, Mr. Review, No Sports, Skaos, Napoleon Solo, Casino Royale, Spy Eye, The Braces, The Donkey Show, the
Skankin' 'Round the World
comps, etc.) and helped bridge the gap between the 2 Tone and 3rd Wave eras--a weird (pre-internet!) period when the US scene was just starting to coalesce, but the Euro ska scene was red hot. (Unicorn's glow is diminished a bit by accusations that label head Mark Johnson had the bad habit of not paying bands the royalties due them).